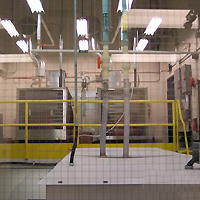 Innovative indoor hydrogen generation and storage / vehicle dispensing / electrical generation system in Mississauga, Canada.
Foreground is the top of the electrolysis-based hydrogen generator with dual internal combustion engine-electric generators powered by hydrogen in the background on the mezzanine.
High pressure hydrogen storage is located indoors, below the mezzanine.